A Work of Pen-Calligraphy – Tokyo –
The Introduction to a Recommended Tourist Spot in Tokyo
Hello! I'm Yonosuke, a writer of KARAKURIJAPAN!
Today is the introduction to a work of pen-calligraphy. The person who will be writing is a pen-calligrapher Ms. Maria, who is familiar to KARAKURIJAPAN.
Today, she is going to write the word "Tokyo". Well, what will the work look like?
A recommended tourist spot in Japan, "Senso-ji"
Source:http://free-images.gatag.net/images/l201204062000.jpg
As the capital of Japan, there are many tourist spots in Tokyo. It's difficult to count up to all because there are too many such as Sky Tree, Tokyo Tower, Tsukiji-market and so on.
KARAKURIJAPAN is introducing traditional Japanese culture day by day in order to make many people know about good aspects about the country Japan.
So, at this time, connected with the word which I'm going to introduce, I'll also show you a tourist spot in Tokyo that I want to recommend you.
What I'm going to introduce is Senso-ji, which is especially famous among tourist spots in Tokyo. Needless to say for Japanese people, I hope it would be a reference for the people who think of going to Japan sometime.
A Recommended Tourist Spot in Tokyo "Senso-ji"
Source:http://www.tokyo-park.net/1310661002.html
Senso-ji is the tourist spot I definitely recommend you to visit when you come to Tokyo.
Asakusa has been flourished as a busy district since Edo period. And even nowadays, it is thriving with many people as an area where we can feel the traditional Japanese atmosphere.
There is a tourist spot especially thriving with many people in Asakusa. Yes, that is Senso-ji.
Senso-ji still exists here, in Asakusa as the oldest temple in Tokyo even it has experienced restoration or rebuilding again and again.
 The first thing you can see when you get to Senso-ji is the gate, Kaminari-mon.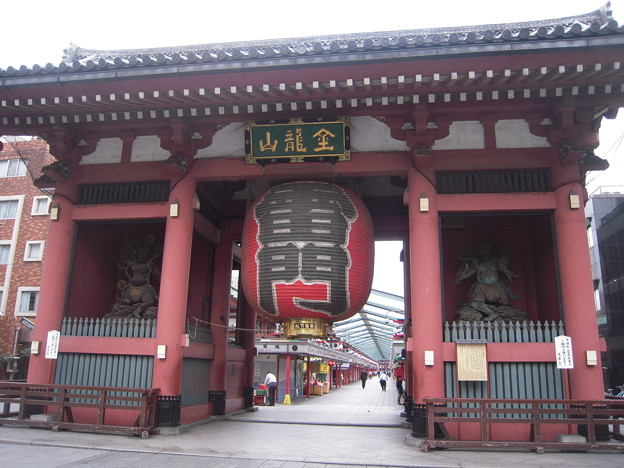 Source:http://photozou.jp/photo/show/124684/27236058
Kaminari-mon is a kind of symbol of the town Asakusa. The people who visit there for the first time will be impressed with the power it has.
And when you go through the Kaminari-mon, you can reach in Nakamise-street.
Source:http://masayuki127.blog95.fc2.com/blog-entry-452.html
Nakamise-street is thriving with many people and stalls. You can buy tasty foods and unique souvenirs to Asakusa, Tokyo at stalls.
The representative one is Ningyoyaki which is cakes molded into various things. So you can enjoy not just the taste but also its unique shapes when you eat it.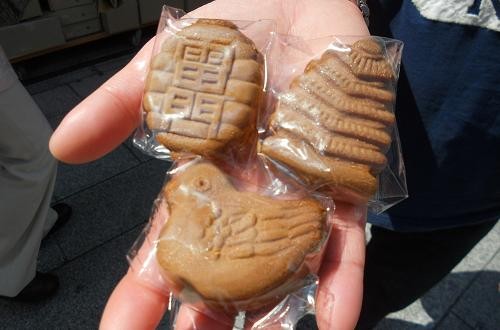 Source:http://blog.livedoor.jp/ds12ken358/archives/51880443.html
Besides it, like Agemanju (fried rice cakes), you can eat many tasty foods which are unique to Asakusa on Nakamise-street. I think it is a good idea to buy souvenirs here!

Walking from Kaminari-mon through the Nakamise-street, and if you go further, you can see Hozo-mon gate and Goju-no-to (five-story pagoda).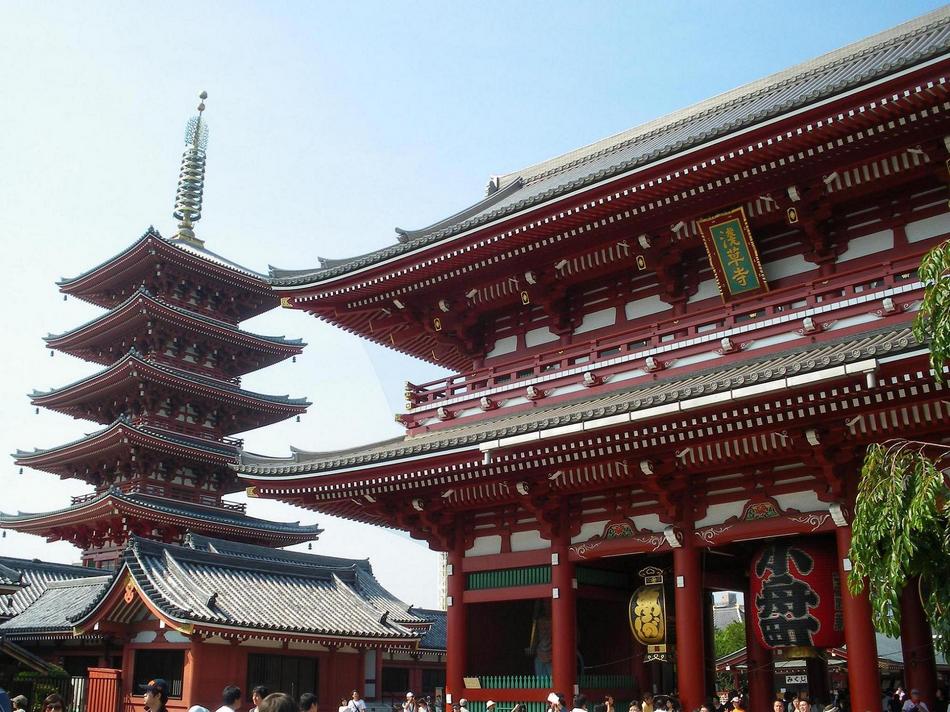 Source:http://travel.rakuten.co.jp/HOTEL/3120/CUSTOM/312090207183855.html
Hozo-mon and Goju-no-to are as powerful as Kaminari-mon. At night, they are lighted up and then also beautiful. I really want you to have a look at them!
If you go even further, you finally get to Hondo (main hall). It's also called "Kannon-do" as another name, and it was designated as a national treasure in Meiji 40th (1907). After that, it was burned down because of an air raid, but it was rebuilt by the hand of people. Now it is existing as a symbol of Senso-ji.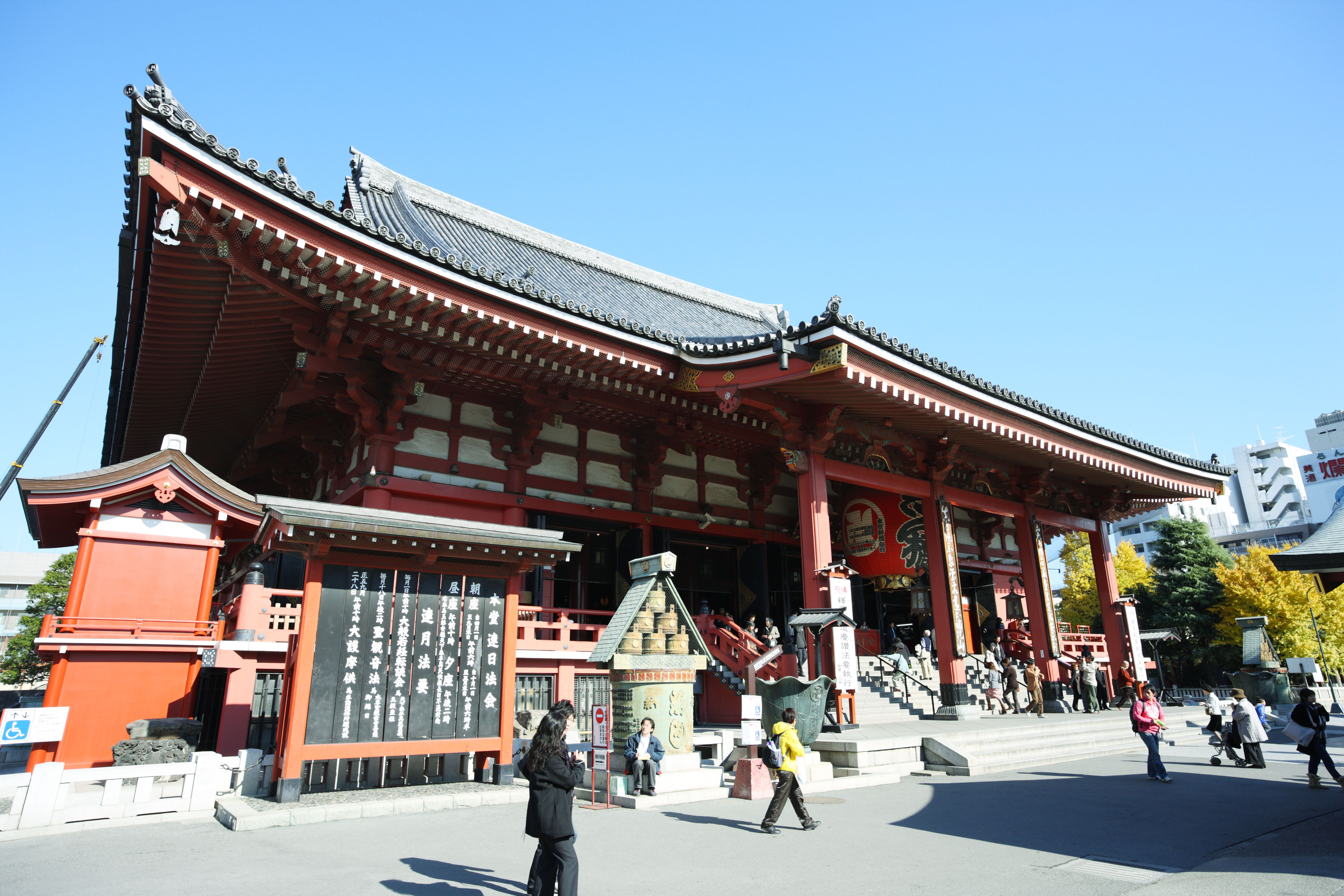 Source:http://www.yunphoto.net/jp/photobase/hr/hr6697.html
Senso-ji is especially popular among the tourist spots in Tokyo. You can walk and eat there, and above all, you can feel traditional and historical Japanese atmosphere. The Olympics are held in Tokyo in four years. So if you come to Tokyo, please visit Senso-ji.
The Characters "Tokyo" Written by the Pen-Calligrapher Ms. Maria
Then, I'm going to introduce a work by the pen-calligrapher Ms. Maria, the word "Tokyo". You can see more detailed instructions in the video, so please refer it!
▲The first word is "To". I can feel delicacy from the word written smoothly.  I expected she would write more strongly, but apparently she didn't.

▲Next word is "Kyo". It is also written delicately. The pen-calligrapher Ms. Maria uses the calligraphy pen so beautifully. It seems that she is concentrating her all nerve into the calligraphy pen. The work is of course beautiful, but I really want you to have a look at her usage of calligraphy pen in the video.

▲She added the word "TOKYO" in alphabet and it made the work more artistic. I like the word "TOKYO" written in alphabet! This piece is so proper for Japan which is hosting upcoming Tokyo Olympics in 2020.  
 Let's now take a look at Ms. Maria's commentary regarding today's calligraphy.
My image of the word "Tokyo" was hard because it's seen in many logotypes.

However, at this time, I tried writing it with soft image.

A reason is because I like softness.

So I wrote it in a novel way.
I think Tokyo is actually associated with hardness, because there are many skyscrapers and it is crowded with many people. Because it's a big city, I cannot help associating Tokyo with hard image.
However, Ms. Maria dared to write such "Tokyo" softly. As Ms. Maria said, we can feel much novelty from her work.
Ms. Maria, thank you for another wonderful performance, today!
You can check out more of Ms. Maria's work at KARAKURIJAPAN. Each one is wonderful! Please check it out!
Also, pen-calligraphy can be tried by anyone as long as he/she has a calligraphy pen and a piece of paper! Please give it a try!
>>Watch other works by Ms. Maria