"Clay" Written in Iro-Moji(Colored Calligraphy) by Mr. Nishimoto
Hello, I'm a writer of KARAKURIJAPAN, Yonosuke!
I'll introduce a work of iro-moji(colored calligraphy). As usual, Mr. Nishimoto wrote it?
How did he write it at this time?
"Clay" in Iro-Moji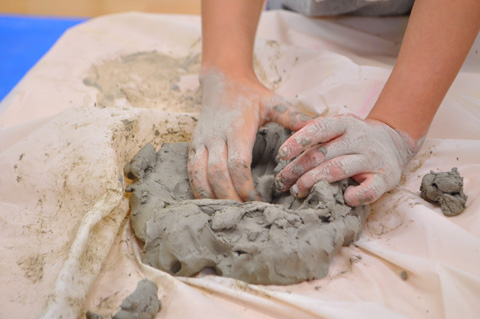 Source:http://img-cdn.jg.jugem.jp/f6a/1018447/20110905_2503547.jpg
At this time, he wrote "clay". It's called nendo in Japanese.
All of you have played with it in your childhood, haven't you?
There are some kinds of clay, such as paper clay, and colored clay. And just the word clay reminds me the one with ground color. I think it might remind you so as well.
And also Mr. Nishimoto thought of the ground colored clay when he wrote it.
Explanation by Mr. Nishimoto
Let's take a look at his explanation before I introduce it.
The word "clay" reminds me that,
when I was a child and played with water in a sand pool,
if I poured water to sand, it became wet.
When I dag, I found something viscous from the bottom.
This is my impression of clay.
And when I lifted the viscous thing,
the shape changed.
So I played with it making a doll, a dumpling, etc.
And I expressed the viscous atmosphere of clay,in brown.
As he says, it's difficult to represent the feeling when playing with clay. The viscosity and the curiousness that I can make anything I want with it.
So he represented the viscous atmosphere.
Then how have it become?
How Mr. Nishimoto Wrote "Clay"
I'll introduce how he wrote it. You can see the details in the video. Please watch it!

▲He wrote the letters with water. He wrote the square in the first letter, which is not the proper stroke order. That might be because he doesn't "write" letters, but "paints" letters. So in iro-moji, you write and paint letters at the same time. Interesting!

▲The first color was purple. And then he put brown. It will be more interesting if you think why he chose these colors.

▲He put more and more colors. It is beautiful that colors spread along the letters written with water.
He put various colors. How was the work completed?
Completion of "Clay" by Mr. Nishimoto
An iro-moji work "clay" is completed! It represents the viscous atmosphere with brown color as he said before.
And he couldn't have done it if it hadn't been iro-moji(colored calligraphy). It should be difficult to represent the curious atmosphere of clay in normal calligraphy. That's why iro-moji is interesting!
Thanks for another amazing work, Mr. Nishimoto!

Everyone can try iro-moji. And there is no same work in iro-moji.
Even the same letter must be different in iro-moji.
If you got a little interest in it, let's try! Your work will be the only work in the world!
You can see other works by Mr. Nishimoto through KARAKURIJAPAN. All of them are amazing! Please check them out!
See you!
>>Watch Other Iro-Moji(Colored Calligraphy) Works